Simplifying Employee Matching Donations
Employee Matching Donations are one of the most popular examples of corporate social responsibility among companies, staff, and the nonprofits they support. Offering such a program results in elevated employee engagement, unique cause marketing opportunities, improved brand image, substantial tax benefits, and more. Therefore, simplifying employee matching donations is key to a successful program!
If you have never offered Matching Donations, it might appear to be an overwhelming task⁠ — with a lot of moving parts to juggle. Don't stress! We've got your help. You can offer corporate matching donations (a.k.a. employee matching donations) for employees while minimizing the administrative lift. Here's what we recommend:
Work with a CSR management platform — that's us!

Establish flexible matching gift guidelines.

Simplify the match submission process.

Provide employees with detailed matching gift resources.
As you explore our top tips and tricks, keep in mind that the return on investment for matching programs is significant. When you employ key practices like these, you can ensure your company is set up to enjoy the benefits. 
Let's begin!
1. Work with a CSR management platform.
Historically, a team had to facilitate their corporate philanthropy and corporate giving programs the old-fashioned way. Today, however, technology is making management as simple as possible⁠. More and more companies are seeing the benefits of workplace giving solutions to streamline and simplify their philanthropic efforts. 
For example, Selflessly offers an all-in-one giving platform for corporate social responsibility with built-in tools for employee donation-matching. Leveraging this solution empowers companies to:
Support millions of pre-screened and verified charitable causes

across every sector and location, saving substantial time and effort evaluating the organizations to which their employees donate;

Enable matching gift auto-submission

(

offered in partnership with Double the Donation

), which empowers employees to request matches directly from their favorite nonprofits' donation pages to simplify the process;

Give and approve matches quickly

with one-click donation buttons, ensuring efficient matching donation processes;

View a centralized giving history

to simplify tax reporting;
Essentially, the right software provider can go a long way toward automating matching employee donations. And doing so enables companies to relieve a lot of the administrative burden that would traditionally be involved in running such a program.
2. Establish flexible matching gift guidelines.
Each company that hosts a matching gift program is able to establish its own unique matching gift guidelines. These criteria generally incorporate:
Minimum qualifying donation amounts

⁠— Employees typically must meet a minimum threshold in order to request a matching gift from their company. According to an analysis of match programs, the average minimum amount lands at around $34.

Maximum annual match limits

⁠— Generally resetting on an annual basis, most companies establish a maximum match amount that they're willing to contribute per employee. Though this can vary greatly, the average maximum lands at $3,728.

Matching gift ratios

⁠— This determines the rate at which the employing company matches the original gift. Research indicates that 91% of companies match donations at a standard 1:1 ratio, while 4% match at a lower rate (such as .5:1) and 5% choose a higher rate (such as 2:1, 3:1, or even 4:1).

Qualifying nonprofit mission types

⁠— Companies generally determine which nonprofit organizations they'll support; typically some combination of educational institutions, health and human services, arts and cultural organizations, civic and community groups, environmental nonprofits, religious groups, and more.

Eligible employee groups

⁠— Employees are typically categorized by full-time, part-time, or retired status with the company⁠—and any combination may be eligible for a company's program. Meanwhile, some businesses choose to match donations made by employees' spouses or dependents, too.

Submission deadlines

⁠— Most companies establish submission deadlines based on a set number of days or months following the date of the initial transaction or in line with the calendar year. Some even offer an additional grace period a few months into the year following the one in which the original donation is made.
After an employee submits a matching gift to their company, the employer typically reviews the request and ensures that it meets the pre-determined conditions.
One way to simplify the matching gift process⁠—both for your staff and the management team behind the scenes⁠—is to offer flexible giving guidelines. Not only does this open up program availability (and thus drive additional impact), but it also reduces the amount of time and effort required of company leadership to review and approve matches.
3. Simplify the match submission process.
Another key component of the overall matching gift process involves employees submitting their matching gift requests. Historically, team members were required to complete and mail in paper request forms that their employers then had to manually process, review, and approve.
In recent years, we have streamlined the process by providing companies and their employees with access to online submission portals that aid in completing digitized request forms.
But the innovation didn't stop there! Currently, the best way to simplify the match submission process involves matching gift auto-submission functionality. Thanks to our seamless partnerships with Double the Donation, and the nonprofits they support, employee submissions are easier than ever. Qualifying team members⁠—employed by companies that leverage Selflessly's corporate giving platform⁠—are able to complete their end of the matching process in seconds from their favorite nonprofits' giving pages. All they have to do is enter their corporate email address on the confirmation screen and authorize Double the Donation to submit a match request on their behalf!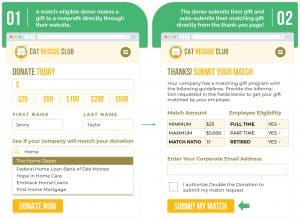 Then, the information provided by Double the Donation flows directly into your Selflessly platform to be automatically processed and approved with ease.
4. Provide employees with detailed matching gift resources.
One final thing you can do to reduce the operational workload of a matching gift program is to be proactive about the types of resources you provide your employees.
Once your newly developed program is live, ensure you have good communication so your team knows about the program! As you do so, it's a good idea to consider what questions they might have ahead of time and work to answer them in the materials you share. We also have many resources to check out that will help along the journey.
For example, one critical document is likely to be your company's official matching gift policy. When put together well, your matching gift policy can be a central hub of information regarding your matching program and how employees can get involved.
Providing this resource (and other impactful information) to your staff can help reduce the back and forth you might see regarding the program. You'll spend less time answering one-off questions and ensure every employee has the details they need to partake in the initiative.
Once your matching program is up and running, you don't want to overlook the potential offered by strategic reporting practices. After all, understanding the impact that your company has on the charitable causes you⁠—and your employees⁠—support can help maximize your efforts. And again, equipping your team with the right tools and resources (like the complete CSR platform from Selflessly) can go a long way!